It's as if my ecoprayers have been answered.
In switching to nontoxic, more environmentally friendly cleaners like Method products, one of the downsides is thus: Because you are not using harsh chemicals that eat away at grime (as well as eating away at you!), there are some types of dirt and stains that are more difficult to manage. One of these types is in your toilet. While I scrub diligently with my ecofriendly cleaners, there are still issues with toilet germs and hard water stains.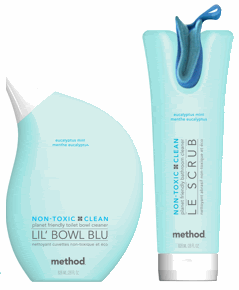 So Method, in a burst of song from the angels, has just announced the availability of Li'l Bowl Blu and Le Scrub – Method's answer to mainstream toilet cleaners. Which usually contain such delicious substances as sulfuric acid and phosphates. A veritable Planet Killing Cocktail.
In contrast, the cleaning agent in Lil' Bowl Blu is lactic acid. It's thickened with natural xanthan gum (which is, in fact, edible – check your ice cream label!) to keep it clinging to your toilet surface long enough to break down stains.
For those who prefer elbow grease, Le Scrub uses milled marble as a natural abrasive and purified clay and xanthum gum as thickeners. Safe on ceramic tile, grout, stainless steel, and formica, it helps you scrub away more stubborn stains.
And, dude? It's Method. It's going to smell great rather than medicinal or institutional. Plus, the stylish packaging means you don't have to hide it away under the sink!
Li'l Bowl Blu and Le Scrub will be available in stores in March and online in April.